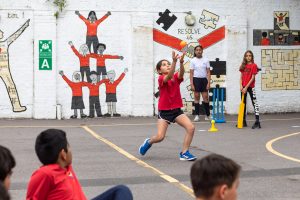 We provide a number of schools with PE support and PE development sessions. Does your school require P.P.A cover or PE support alongside your class teacher? If so please contact us to arrange a meeting today!
We supply digital planning and content for PE delivery in schools and are now adapting and creating short video content due to Covid 19. Visual digital pictures are created to help teachers digest the sessions more effectively with written technical content and "buzz" words for the children.
Planning includes the following, Invasion games, Striking and fielding, Net and wall, Gymnastics, Athletics. We also incorporate warm – up activities to develop good functional movement and help the enhancement of the a,b,c,s. Our aim is to promote and develop our traditional games such as Football, Rugby, Cricket, Netball, Hockey, Tennis and Athletics as well as giving children taster games that they have never played before such as Basketball, Table tennis, Volley ball, Futsal, Handball and many more.
SG Sports also provides Dance and Gymnastics across schools which has had a positive impact on competition and extra-curricular pathway into localised clubs.
Find out more about the following: